Each year, UNFPA's flagship Report on the State of the World Population (SWOP) is launched at the global level by Headquarters, then at regional and national levels by ROs and COs respectively. The theme retained for 2013 is Adolescent pregnancy. The Regional Office of UNFPA for West and Central Africa selected Sierra Leone to host the regional launch of the 2013 SWOP Report. This launch was preceded by 2 days of Workshop on Adolescent Pregnancy, bringing together teams from 5 different countries around the West and Central Africa Region.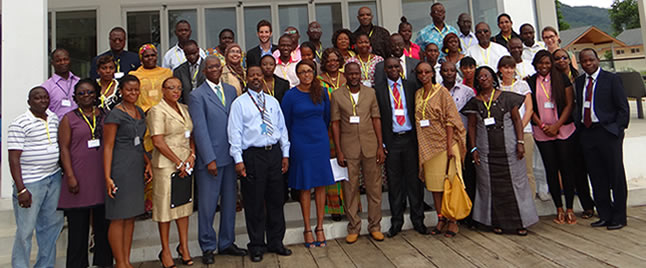 It is not by chance that Sierra Leone was selected. As highlighted by the UNFPA Country Representative, Dr. Bannet Ndyanabangi, "for the last few years, the Government of Sierra Leone, with support from the development partners, has been committed to improving the lives of women and girls in this country. The National Strategy for the Reduction of Teenage Pregnancy by His Excellency the President in 2012 places Sierra Leone at the forefront of a regional mobilization for adolescent girls."
For three days, teams from Benin, Burkina Faso, Niger, Nigeria, Senegal and Sierra Leone exchanged on issues relate to Adolescent Pregnancy and worked together to identify good practices, methodologies and success stories to address this pervasive problem.
The Minister of Health and Sanitation, who personally participated in this event expressed the priority given by the Government of Sierra Leone to the Reduction of Teenage Pregnancy and the necessity for countries in West Africa to join their efforts against this pervasive problem. She also highlighted the high expectations around the National Strategy and reminded that" the Government and its partners will not be judged on the efforts we made but on achievements. We will be judged on the changes we have made in the Sierra Leonean society. On the changes we made in the lives of the women and girls in this country."